Century and the Scottish Building Society merge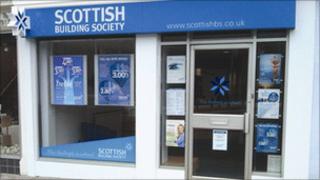 The Scottish Building Society, one of the country's oldest mutuals, has announced plans to merge with the smallest, Edinburgh's Century.
Both societies have their head offices in Edinburgh.
The Scottish has six branches as well as a network of agents and £375m of assets, while Century has no branches and £25m of assets.
Jointly the two societies will have more than 40,000 members. The deal has to be approved by regulators.
The bigger society will retain the name Scottish Building Society and Century's Edinburgh office will close.
Alexa Henderson, chairman of Scottish Building Society, said "The members of both societies will benefit from the financial strength of the combined society and the Scottish will continue to operate as it always has - a traditional building society."
It is unclear what will happen to the six staff at Century.