On track or hitting the buffers?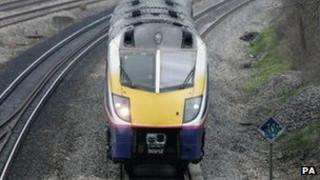 The West Coast rail franchise doesn't look like a competition you'd want to win, if the early judgement of the London stock exchange is any guide.
Virgin Rail lost out. Nearly half of it is owned by Stagecoach.
While there's no market listing for Virgin, including 51% of rail, plus its airline and financial divisions, its Perth-based partner saw its share price rise by 5% in the first six hours of trading since the announcement.
Meanwhile, First Group which was the victor in the bidding battle, has seen its share price fall by 12%.
The market may be reckoning that chief executive Tim O'Toole already has more than enough work in hand, sorting out the under-performance of his UK bus operation, including assets he's been trying to sell off.
And/or market-makers may think the Aberdeen transport giant has over-bid for the privilege of running one of the more profitable franchises.
Sir Richard Branson and Sir Brian Souter, the knights behind Virgin Rail have set out to persuade them of that. They've responded to defeat by going on the attack.
And today's media take on this is that it's about Virgin Rail's frustration rather than First Group's success.
"Extremely disappointed"
They've even had, astonishingly, the support of Bob Crow, of the RMT transport workers' union, praising the big business role of Virgin, while another union leader is already threatening industrial action if First Group starts shedding jobs. (It says it doesn't intend to).
As Branson has repeatedly done with his Virgin brand, he's succeeded in getting people to like it and trust it, telling a story of how he's transformed the customer experience.
He's superb at giving the impression that he's providing some kind of public service as well as customer service, as he sought to do also in standing up to British Airways and in trying to get control of the National Lottery.
He says he's "extremely disappointed" by the franchise decision. He's warning that the bidding process shows signs of "insanity", in that it keeps on going wrong but keeps being repeated. He argues Virgin's been beaten three times before, and each time, the winner has had to hand back the keys.
Having spent £14m on the West Coast bid, he doesn't sound like he has the appetite to keep going back for more defeats.
"Bitterly disappointed"
Sir Brian is taking a less combative approach. He's "bitterly disappointed" but no doubt mindful that he has shareholders who will need reassuring that the loss of the West Coast line won't harm the company's value. The early stock market price movement indicates he's put forward a persuasive case.
In that, he spelled out the cost of several bonds required of the franchise-holder, of the advantage Virgin Rail had from its existing alliance with train-builder Alstom, and of the passenger and revenue assumptions that were being made. The subtext of First Group's overbid was clear, as Sir Richard Branson spelled out more bluntly.
The Stagecoach co-founder and chief executive says his company will continue to pursue its bids for the Great Western and Thameslink franchises. That appears to be at odds with the Virgin chief, so it could be that Stagecoach could find itself going it alone on those.
Souter spells out the potential divergence of the two company's tracks: "Stagecoach will now continue to assess other franchise opportunities and, where appropriate, will work in conjunction with its Virgin partner".
Early impact
First Group now has to deliver; on a 15% cut in standard class Anytime fares: on more trains between Birmingham and Glasgow (so perhaps more changing at the hideous Brummie New Street?): an improved passenger experience: direct links to more northern English towns: free wi-fi, but only after carriages have been upgraded and re-upholstered.
As First Group takes over in December, it'll have to make an early impact with that prospectus. Some of it may not happen until well into its 13-year contract. But given the spinal role in the British economy played by the Glasgow to London Euston route, it'll be closely watched.