Scottish jobs market 'losing momentum'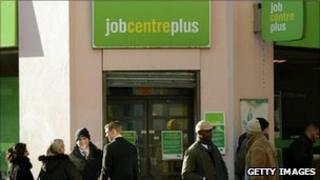 The Scottish jobs market is losing momentum, according to the Bank of Scotland's monthly survey of recruitment specialists.
For the first time this year, it found fewer people securing permanent posts, and there was only a weak rise in the numbers securing temporary roles.
Dundee saw the sharpest fall in permanent jobs. Edinburgh was the only city to see temporary roles in decline.
The average starting pay remained in decline, falling for a second month.
While there was a declining number of people available for work, according to the survey, there was a slight increase in the number of vacancies.
Vacancies for permanent roles were again strongest in IT and computing, while secretarial and clerical roles were the top sectors for temporary vacancies.
Economic slowdown
The equivalent survey for the UK as a whole saw the jobs market in retreat for the second consecutive months, after five months of the index being positive.
The Bank of Scotland's chief economist Donald MacRae said: "The Scottish labour market showed a marginal improvement in July but is losing momentum.
"The number of people appointed to permanent jobs declined for the first time this year, showing the effect of the current slowdown in the economy.
"However, the number of vacancies continued to increase giving hope that the upwards trend in employment can be maintained."
The Bank of Scotland monthly jobs survey, of about 100 recruitment specialists in Scotland's cities, has been one of the more upbeat economic indicators in recent months.
Employment more widely has bucked the trend of other downbeat data, with last week seeing the fifth consecutive month of improving figures from the Office of National Statistics.