Housing industry 'boost' from 95% mortgages plan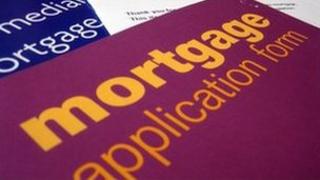 Scotland could be about to introduce a scheme to make 95% mortgages available to home buyers in an effort to increase house building.
The Scottish government and the construction industry are said to be to be working on the plan.
It is hoped the proposal will boost the housing industry and help first time buyers who will only need a 5% deposit.
The head of trade body Homes For Scotland said the small loan deposit mortgages will be announced soon.
Chief executive, Philip Hogg, said: "We are working very hard to develop our own particular mortgage project, working with lenders and the Scottish government.
"We hope to announce in the next few weeks a 95% mortgage, back on the market, to those who can sustainably afford one.
Realistic help
"We are not for irresponsible lending, but we are looking to say a 5% deposit is a realistic amount that people can afford."
Homes for Scotland is projecting that over three years the new scheme could create or safeguard 22,800 new construction jobs and more than 650 apprenticeships.
Earlier this year the Scottish Government said it would support a three year national mortgage indemnity scheme by providing a guarantee to facilitate its launch.
Mark Horden, from the Glasgow Solicitors' Property Centre, said: "The way it works is that the developer or builder contributes a bit on top of the 5% deposit and the Scottish government provides a guarantee above and beyond that for another 5 or 6% of the property value.
"That way the mortgage lender has greater security, they think they are taking less of a risk and as a consequence they will find it easier to lend."