Virgin Atlantic to fly between Scotland and Heathrow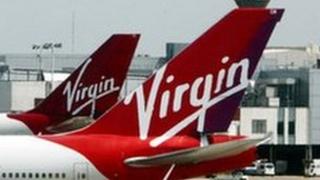 Virgin Atlantic has said it plans to launch two new domestic services between London and Scottish airports.
The airline's chief executive, Steve Ridgeway, told BBC Scotland he wants to have the flights - from Aberdeen and Edinburgh to Heathrow - up and running next summer.
Virgin has just announced a new service between Manchester and Heathrow, its first foray into the domestic market.
Mr Ridgeway said creating a short-haul network would increase choice.
In an interview with BBC Radio Scotland, he said it was "important to keep Scotland connected to the rest of the world".
He added: "Initially there will be three services a day out of Manchester.
"There will be flights in the key peak morning time, again at lunchtime and again in the evening, and we will look to ultimately replicate that sort of thing out of Scotland as well.
"But there is a process to go through between now and the end of the year to ensure that we are successful in obtaining those landing rights at Heathrow, so that we can start to offer a service out of Scotland from next summer."
The European Commission is expected later this year to decide on who will secure slots at Heathrow which became available following the takeover of BMI by British Airways owner International Airline Group.
Mike Cantley from tourism agency VisitScotland said improved flight connections would help the economy.
He commented: "Heathrow is very important. About 20 million people will be using Terminal 2, increasing to 30 million over time.
"So good connectivity through Heathrow is vital for Scottish tourism and Scottish business."
Virgin Atlantic was founded by Sir Richard Branson, and is 49% owned by Singapore Airlines.
Earlier this month it reported an annual loss because of higher fuel prices.
The carrier made a loss of £80m in the 12 months to the end of February, compared with a profit of £18.5m a year earlier.