Johnston Press reports profits fall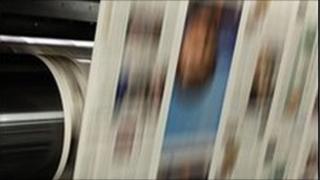 Johnston Press has reported a fall in underlying profits as revenues from print advertising continue to decline.
The media group, whose titles include The Scotsman, also posted a drop in contract printing and newspaper sales revenues in the first half of the year.
Statutory pre-tax profits remained flat while revenues rose slightly.
But the results were bolstered by a one-off compensation payment of £30m from News International to release it from contractual printing commitments.
Excluding that payment, total interim revenues fell 8.2% to £176.1m.
However, Johnston said it expected its full-year results to be in line with its expectations, unless the UK economy deteriorated further.
Print advertising revenues in the six months to 30 June fell by 12.5% to £97.4m, with classified advertising accounting for much of the drop.
Contract printing sales fell 10% to £12.6m, while newspaper sales revenues were down 3.1%.
Digital revenues
On a positive note, the firm said digital local display and property revenues grew by 43.8% and 25.2%, albeit from a low base.
It also reported an increase in audiences, particularly to mobile platforms, with the number of monthly visitors doubling since last December.
Johnston has continued to work on reducing its net debt, which stood at £361.7m at the end of June.
The media group said it had since used the News International compensation payment to cut that figure to £332.1m.
Johnston reduced costs by £12.8m (8.1%), compared with the first half of 2011, and said it remained confident of achieving its full-year cost savings target of £25m.
Savings included consolidating printing activities and simplifying the management structure.
'Strategic transformation'
Chief executive Ashley Highfield said the company had made significant progress during a first half of "tremendous activity".
"Johnston Press is going through a strategic transformation," he said.
"As we continue to develop our digital portfolio, refresh our print offering, reduce costs, and use our substantial operating cash flow to bring down our debt, we are increasingly confident about the success of the strategy and the benefits that it will deliver."
The decline in total advertising revenues continued into the first six weeks of the second half, according to the company.
It said revenues were down 14.7%, citing the "challenging economic environment" and the effect of the Olympic Games coverage on the advertising market for the drop.