Fog on the Clyde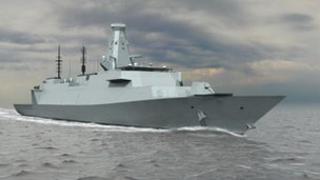 The "global combat ship" unveiled by the Ministry of Defence this week is already engaged in hostilities.
That's when it's a long way from leaving the drawing board, let alone the dockside.
This is the next generation fighting ship, intended to replace Royal Navy frigates, as they retire from the start of next decade.
And while it's spending more than £100m on design, the MoD can confirm from a virtual helicopter trip round this virtual boat that it's going to be grey, sleek and sort of reassuringly warship-shaped.
But who's going to build it? That's where the hostilities come in.
In brief, the pro-UK side say, with apparent confidence, that it won't be built at BAE Systems' two Clyde yards, or Rosyth where the carriers are being put together, if Scotland votes to have its own navy and much else besides.
It's more than 50 years since the Royal Navy last commissioned a ship from a foreign country, goes the argument, and the first orders will be placed - or so we're told - after the autumn 2014 vote.
Those arguing for independence say Scotland will want its own ships, and how could Whitehall top brass possibly overlook the Clyde's expertise, even if it were to be found in a foreign country? Isn't it already having Royal Navy support ships built in Korea?
Sovereign capability
So let's try some clarity on this. First, European procurement rules don't apply to complex fighting ships, for reasons of strategic defence interests or 'sovereign capability'.
An independent Rest-of-the-UK can decide to build its warships in its own yards, though there's only one south of the border, in Portsmouth, that's currently equipped to do so.
But Whitehall, under both Labour and the coalition parties, chose not to define the MARS project (Military Afloat Reach and Sustainability, or oil tankers to most of us) as complex or armed, and put the £452m order for four such oilers out to a long tendering process.
It was announced last February that Daewoo in Korea would win the order. So the claim that the Royal Navy has only commissioned ships from British yards won't hold for that much longer.
The argument is also out of kilter with other parts of MoD ordering. If it's not buying a nuclear deterrent from a US company, it's working with fellow Europeans on some rather significant defence equipment, such as fighter aircraft.
Ships are retained as a special case, perhaps because of the psychological need for Britannia still to be building the symbols of this sceptr'd isle's defence. (Just think: the "global combat ship" will probably still be around to mark the 1,000-year anniversary of the last successful invasion, in 2066.)
Perhaps the navy has special status because British yards still build rather fine warships, rivalled for their bristling technology only by the US.
Or maybe it's because they provide lots of symbolically significant, high-tech manufacturing jobs, in marginal constituencies.
Tender fight
So a Scotlandless Whitehall would be entitled to build only in Portsmouth if it chose. Or it could turn to those highly skilled foreigners on the Clyde.
But what's very unlikely is that it wouldn't put a foreign order out to tender, pitting the Clyde against European, American or Asian yards. We already know foreign specialisation has squeezed the Brits out of most merchant, ferry and cruise liner building.
What's also unlikely is that Whitehall would retain its current Terms of Business Agreement with BAE Systems to ensure a steady flow of work over 15 years, intended to sustain jobs, skills and yards.
That's looking more precarious than when it was signed, as the aircraft carrier contract heads towards sea trials in 2017.
It's getting less clear by the day that the state of the public finances will be capable of big orders for the global combat ship as early as anticipated. Under such pressure, MoD orders already have a nasty habit of being stretched into the future.
That, of course, has little or nothing to do with Scotland's choice on independence.
But it's part of what lies behind the exasperated tone to the statement from the Clyde shipbuilder unions, effectively saying (I paraphrase and perhaps exaggerate a bit): "grow up, both sides, it's our jobs at stake, and there's other stuff going on besides your constitutional obsessions".
Missile silos
What is probably making the unions a bit nervous is that 4,000 or so Clydeside jobs depend on a combination of a) the Treasury sorting out Britain's finances, b) Scottish voters doing nothing to harm the order book from Whitehall, and c) the BAE Systems bosses securing orders from other countries.
That's because the global combat ship is so named because it's meant to be, well, global.
So far, British yards have specialised in building ships the rest of the world doesn't want. The Type 45 Destroyer is so expensive and swanky, in military terms, that it's of limited appeal to lesser navies. Likewise the aircraft carriers.
The global combat ship is being designed to appeal to foreign markets, where foreign navies can install weapons systems and other specification of their choice.
The vertical missile silos can be accessorised to your whim, with options on helicopter hangar space, and cargo storage when deployed for humanitarian aid.
What BAE Systems and the Ministry of Defence have both acknowledged is that, unless orders come in for versions of the ship to be built at the Portsmouth, Govan and/or Scotstoun yards, then there's not enough Royal Navy work to keep all three of them open.
So the future of the yards may not depend on Scottish voters after all, but on the decision of the Brazilian, Thai or any other BAE Systems customer to build up their own shipbuilding capability, using the designs under licence, but leaving few of the jobs in Britain.
As ever, it's not as simple as the political slogans might suggest.