Hatching entrepreneurial success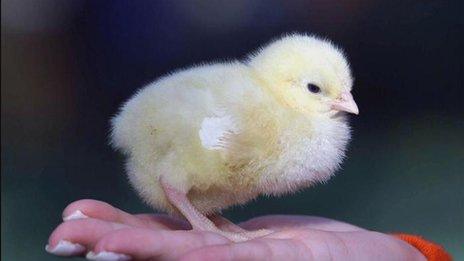 In a large open plan office in a building in the Gorbals in Glasgow, small groups of people or individuals are hard at work.
There is a quiet buzz about the place. Some are on the phone, others looking at papers or their computer, some chatting.
It is designed to help businesses get up and running successfully and, as their website puts it, "to drive entrepreneurial mindsets and behaviours".
This whole room is known as the hatchery, the businesses as chicklets, the aim to help them fly the coop.
Over the next few months, BBC Scotland will be following some of these businesses on their journey, through the highs and lows of setting up your own.
Paul Bain and Claire McArthur
A contemporary country band might seem like a rather unusual business start-up but Paul Bain and Claire McArthur, who perform together as Raintown, are doing just that.
Both are very aware that the music business is changing.
"This is a whole new music business landscape," Paul tells me.
"It's in great turmoil, but within that turmoil there are great opportunities."
They have been using their time in the hatchery to work on skills like web design, networking and social media.
"People think you are selling your soul," says Claire.
"That's because you're obviously in here concentrating on the business side of things, whereas a lot of other people are maybe saying you should be spending 100% of your time writing songs and perfecting your craft, but we do that as well as doing this.
"Relying on somebody coming over and giving you a big record deal and becoming really famous, sitting on a tour bus 24/7, isn't going to happen."
For them, this has been all about trying to stand out from the crowd.
Victoria Bisland and Anne Widdop
Former IBM director Anne Widdop noticed a gap in the market after chatting to people about the kinds of ceremonies they wanted for important events.
It eventually led to setting up a business offering humanist ceremonies, including weddings, baby namings and funerals.
"I met lots of people who wanted to do something different, who were keen to have a unique and personal ceremony," she says.
"I stared at the numbers long enough and looked at what the demographics were and thought there's a business here. I decided to go for it."
Operating as Fuze Ceremonies and Essential Funerals, the business has been going well to the point that they have been recruiting new staff.
"It's a genuinely lovely thing to be able to do for couples and families," says business partner Victoria Bisland, "and something that we thoroughly enjoy being involved in."
She has found being under the Entrepreneurial Spark umbrella really helpful.
"Having people ask us the hard questions and scrutinise what we're doing has been incredibly useful," adds Anne Widdop, "because it's great having a good idea, and you convince yourself that it can work.
"But having people around here who are constantly prodding you and getting you to justify what you are doing has been really useful for our business."
Jamie McHale keeps a notebook by his bed for moments when ideas strike in the night.
It was one of those occasions which led to his new business Seeu.at.
It is a web and mobile phone app which allows people to find deals and offers in their area relevant to them, share them with friends who can then comment and make suggestions of their own.
As Mr McHale puts it, "it's a more social way of finding local deals and offers".
He came into the hatchery in January and spent a few months finding his feet and working out exactly what he wanted to do.
He says he is now in the "growth phase".
"You have your highs and lows," he explains.
"Everyday as an entrepreneur you get successes and things that don't work out as well as you want, but it's about having people around you that are going through exactly the same things that can support you both in good and bad times.
"I know a few people in here who've had some great successes - we've all been part of that, we've been helping them, we've been re-tweeting them, sharing their links on Facebook and just supporting them throughout, and I've received that as well."
Marie Rodgers has experienced setting up a business both on her own and with support from Entrepreneurial Spark.
"It's very exciting starting your own business," she tells me, "but it's also very isolating because you're asking yourself questions and trying to give yourself the answers.
"I found that as a result it took me longer to make decisions.
"I felt that coming in here would help me grow my business, establish a network of people too and give me a bit more direction and sometimes a bit of validation too - 'yeah, you've got the right idea'."
Her company, Total Sales Solution, draws on her 18 years of experience in sales. She started up last September when she left her full-time job.
She describes the help she's had as a bit like having a "navigator".
"They help advise you sometimes on the right way to get there, so they don't make it easy, they challenge you and they support you but it's just a fantastic environment to be in," she adds.
Steve Broadfoot has been in the music business for more than 20 years and his new venture is about making ear protection for both those who work in the industry and audiences - something convenient, cool and brandable.
He has been making his ear plugs at home, but is now looking into a more permanent manufacturing solution.
His idea has already attracted some interest.
"Coldplay's last tour was in front of three million people," he says, "so you're looking to get to that level of production."
He also talks about the atmosphere of the hatchery.
"I've worked in many offices where there are maybe negative people about or people complaining about the company," he says.
"But because everyone in here is working on their own business they're all positive, so everyone's trying to help each other out. It seems to be unique."
But he adds there has been a dose of "business reality", as opposed to family and friends "giving you a pat on the back"
You can hear more on these stories by listening to BBC Radio Scotland's Business Scotland programme at 10:05 on Sunday and later on BBC iPlayer and by free download.