Swinney doubts all 1,700 Hall's of Broxburn jobs could be saved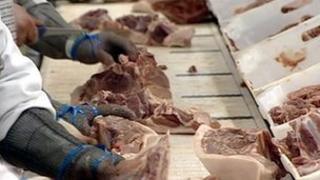 Scotland's Finance Secretary said it would be "difficult to conceive" that all 1,700 jobs at a threatened West Lothian pork plant could be saved.
John Swinney made the admission after attending the latest meeting of a special taskforce.
It was set up to minimise job losses at Hall's of Broxburn.
Dutch food company owners, Vion, warned on 5 July it could be forced to close the plant which it purchased in August 2008 from Grampian Country Food Group.
The company said its pork processing facility had continued to record "unsustainable losses" in spite of "major restructuring exercises".
The taskforce met this week to discuss the way forward.
It has representatives from Vion, Usdaw, West Lothian Council, Scottish Enterprise, Scottish Development International and Skills Development Scotland.
Mr Swinney told BBC Scotland that changes had been identified which could improve the performance of the plant.
However, he added: "I think it is difficult to conceive that all 1,700 jobs could be secured. I think that it's difficult to conceive given the circumstances that we face.
"But what we will be concentrating on is delivering the best outcome we possibly can do, in partnership with the company to try to find a way through this that creates a sustainable and a profitable business."
At the beginning of the summer, staff were told that their jobs were under threat and that a 90-day consultation would take place.
Vion's UK chairman Peter Barr said at the time it was an "extremely sad day" and one "we have strenuously tried to avoid for the past four years".
He explained that "every possible step" had been taken to secure the future of the business but it was losing £79,000 per day at the site.
Mr Barr said there had been a "significant" over-capacity in the UK meat industry and market conditions were extremely challenging.
Track record
The plant employs 1,150 permanent and 595 agency staff and handles 8,000 pigs each week.
On Wednesday, after the third meeting of the taskforce, Mr Swinney said options were being explored to deliver a "sustainable employment and economic future" for the plant.
He added: "The challenge now is to take forward that work with the company. The company has agreed to do this to determine whether or not that can be delivered.
"There are ways of improving the business process that we have heard about today - different ways of improving the financial performance of the plant and the Scottish manufacturing adviser service, who undertake this work in a range of different companies on behalf of Scottish Enterprise, have a good track record of identifying those improvements."
Mr Swinney went on to say he could not comment on the prospects of a buyer being found for the plant. He insisted that was a question for owners Vion.