SSE's energetic counter-attack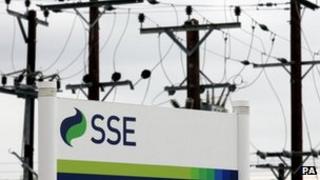 Energy prices, like shares, can go down as well as up, but it's a better bet they'll keep going up.
And the 9% average rise for both electricity and gas supplied by SSE (aka Scottish Hydro, Southern Electric, Swalec and Atlantic) has helped its share price increase a bit.
But this is one announcement when chief executive Iain Marchant has to focus his attention on explaining the price rise to his customers rather than pleasing his shareholders.
Heavily regulated, and in a sector where the Big Six have around 99% of the market, they're under sustained pressure to explain why it is that the average house supplied by SSE will be paying £1,274 per year after the 15 October rise - £102 more than now.
Energy geek
Marchant is the combative type. He doesn't do much to build up his media profile. When he does, and in person, he's far from the image of a sleek, polished, charismatic chief executive.
He's an accountant who's taken to energy and engineering with huge and engaging enthusiasm - 20 years with the company, and 10 of them at the top.
He's engaging company, more of an energy geek than financier, with a sharp and argumentative mind and a trademark thatch of unruly hair. It's a hair-do that belies his £1.2m pay packet.
It's the argumentative side of his character that's to the fore with this announcement. Marchant is sorry for the impact on more vulnerable customers, but not that sorry, because he's on a mission to explain his business to the public.
He's taken a big negative - as the first of the Big Six in what many fear will be a series of similar announcements. And unlike Scottish Power, which took the lead last time and failed to explain itself, he's stuck it to the regulator and the UK government so that they share the heat.
Cable costs
So here's the calculation on a typical dual fuel bill: Of your household bill, 51% is to pay for the actual energy. The cost of that, bought in advance for this winter, has gone up 14% since last winter's fuel was bought forward.
A quarter of the bill is to pay for the grid connections. That part has risen fastest to pay, for instance, for those big and controversial pylons through the central Highlands between Beauly and Denny, and the sub-sea links yet to be laid down Britain's east and west coast.
Bringing energy to customers from the places where wind and marine power is strongest is going to cost tens of billions of pounds. In the past year, that cost has risen 9%, says SSE.
Then there's the risky political bit. The government has ambitious policies for expanding renewable energy, and it also wants to ensure that vulnerable people, pitched into fuel poverty, are protected or provided with energy-saving measures.
It's the energy companies that pay for loft insulation. But as 'hard to reach' customers are also more expensive to reach, it gets harder and more expensive to hit targets.
According to SSE, it agrees with the aim, but is "no longer confident that domestic energy customers are funding a cost-effective scheme and believes action must now be taken to review this".
Some 8% of the average bill has been spent on those social and environmental measures. But SSE says those elements have risen by 30% in the past year. So they now account for 10% of the average bill, or more than £120.
That's a straight provocation to the government, but it comes from years of having to take the heat from ministers wanting to sound populist on prices.
And for good measure, Marchant's people are taking on the Bank of England, alleging their inflation forecasting has failed to appreciate what's happening in the energy sector.
So, four questions.
First, why can't SSE subsidise its customers from profits made in other parts of the business?
High hedges
It points to medium term 5% profits on supplying to households, rather than the broader profit figure. That wholesale end of its activities is more profitable, but the point it makes is that you need to generate profit to invest. And SSE is doing a lot of investing.
What if you did choose to cross-subsidise? SSE doesn't go on to argue this, but a simple assumption in the stock market is that such behaviour, taken unilaterally, would be severely punished as profitability falls.
And with less access to capital, less credibility in the money markets, and less profit to reinvest, that investment programme would be cut back.
Two: can the other big energy supply companies avoid the same rises?
No-one knows, including Iain Marchant. A vital element of company behaviour that these companies keep from each other is their strategy for hedging, or insuring, against future price fluctuations.
If others have been wiser or luckier than SSE, then they can hold off.
But as they're facing many of the same pressures, it's unlikely SSE is alone or even the outlier.
The big catch-up
Three: are energy prices just going to go on rising? On the current trajectory and policy for electricity, then that seems a reasonable bet, as chronic under-investment, poor foresight and the de-carboning commitments combine towards a big and expensive catch-up.
But on gas, there are some prospects of cheaper prices, at least if the North American market is any guide. Unconventional gas extraction, much of it from shale, has revolutionised that market. It's turning the US from a hugely dependent energy importer to a potential net exporter.
And once the supply lines into Texas get reversed, you could see the world price of gas falling. More on that from Business Scotland next week, I hope.
Finally, where does this leave the rest of the economy?
SSE is only one company, so it can't make that much difference, right?
Wrong. If it's a guide to the other energy companies, then this is going to hit the inflation figures, continuing the battle to get prices under control.
With the oil price bouncing back up again, nearly a third since spring, and with global food prices showing alarming signs of a surge, the news from SSE's Perth headquarters will not be welcome among those wrestling with Britain's economic woes.