Moolah maestro, please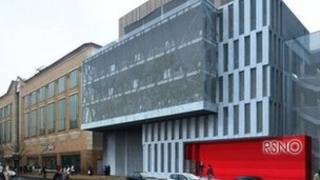 Culture is finding corporate sponsorship hard to find. Not for the obvious reason, though.
It's not that big corporations don't have cash. They're sitting on record piles of the stuff, and reluctant to invest it.
But they're reluctant to be seen to spend it on arts sponsorship too. That's according to Kenneth Osborne, finance director of the Royal Scottish National Orchestra.
That's the Glasgow-based band, with a 121 year history, that opened this year's Edinburgh International Festival, and which closes its Usher Hall programme next Saturday, with Balshazzar's Feast.
The Scottish Chamber Orchestra then takes over on Sunday night for one of the biggest live concerts in the world, as many tens of thousands of people watch its fireworks concert at Edinburgh Castle.
There's a sort of Diamond Jubilee theme to the programme this year.
Osborne is a former cellist who took to accountancy and has kept the RSNO finances in tune for the past five years.
Speaking to me for this week's Business Scotland radio programme, he said he aims for sponsorship to bring in £750,000 to £850,000 most years.
"But the corporate market is very tough at the moment - not always because companies don't have the money, but because they don't want to be seen giving money to the arts. Their employees and shareholders want to see them focus on their core business."
Among those whose shareholders don't resent companies offering support for the arts are RSNO sponsors Capital Solutions, The Courier newspaper, Weir Group and Miller Group, along with Shell and Total, the latter financing a 'naked classics' programme focussed recently on the north-east.
Brass section
The rest of us are sponsors too. In addition to the four main city councils, the Scottish government weighs in with £4.3m for the RSNO and a further £2.2m for the Scottish Chamber Orchestra
Without the mix of government and private subsidy, the average ticket price of about £25 would be about five times as high. It's also unlikely you'd find orchestras touring, with the RSNO doing a one-week residence on Shetland earlier this year.
(Most concerts are free to those under 16, and £5 for those up to 25, as they seek to build audiences and hence revenue for the future.)
The government also allows for a touring fund for Scottish arts organisations, for the very expensive business of taking Scottish culture on the road to overseas audiences.
A bit like football, you attract the best conductors and soloists if you have international status and can compete with the best on a European playing field.
Peanuts in America
For Business Scotland, I learned from Joanna Baker, managing director of the Edinburgh International Festival, that continental European arts organisations are having to adjust, some of them very fast, to a sharp cut in their subsidy.
Whereas many have been used to 70-80% support from government, they're finding that cut to a level closer to the 50% that's more normal for national companies in Britain. To fill the gap, experts in innovative fund-raising from Britain are much in demand on the continent.
In the US, however, it's a different model again. Going to "The Symphony" in big American cities means some big ticket prices. It also means huge endowments and a shake-down of rich donors.
According to Kenneth Osborne, the RSNO's sponsorship income is "pretty good" in UK terms, "but it's absolutely peanuts in American terms".
"An American orchestra would be looking to raise $20m per year," he said.
It can pay its soloists and conductors accordingly. But however much I pressed my interviewees to find out what soloists and conductors get paid in Scotland, they were uniformly coy on the subject.
Nor could I find out about the more outlandish, rock 'n' roll-style riders for bizarre dressing room requirements that the maestros and divas put into their contracts.
You can hear the programme again on BBC iPlayer here.
Or you can subscribe for a weekly free download here.
Respond to this article, or follow breaking Scottish businessheadlines: @BBCDouglsFraser