Standard Life announces structural changes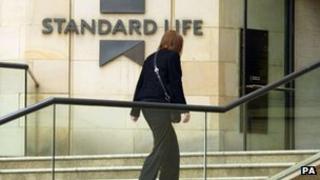 Pensions and savings company Standard Life has announced significant changes in its organisation.
Its UK marketing director, Bruce Kelsall, is leaving the Edinburgh-based firm, following a shake-up of other senior managers earlier this year.
Standard Life has three newly-formed divisions, one of them linking the UK market to services across Europe.
The restructuring is also aimed at linking the firm's efforts across Asia and emerging markets.
Standard Life has a large joint venture in India selling savings products.
The other reasons for reform are the requirement for companies to provide workplace pension schemes, along with radical reform to the way financial advice is provided - which means advisers are barred from taking commission.
A Standard Life spokesman said: "Today's changes allow us to take further advantage of the significant progress we've made transforming the operational and financial performance of Standard Life."