Sharp fall in city evening newspaper sales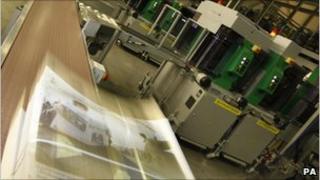 Scotland's city evening papers have suffered sharp falls in circulation over the past year.
They were led down by the Evening Times in Glasgow, whose figures fell by 12% in the year since last summer to reach 45,900.
Over the previous year, circulation fell by 8%.
Sales figures of regional titles showed that the Press and Journal was one of few to halt the slide in the first half of this year.
However over the full year to June, the Aberdeen-based title - which sells across the north-east and the Highlands - saw sales fall 3% to 68,700 copies on the average day.
Also owned by publishers DC Thomson, the Dundee Courier was down over the year by 9% with average sales of 56,200.
Among Scotland's other evening daily papers, sales of the Evening News in Edinburgh for the year to June were down 11% to 35,600. In the year from 2010 to 2011, sales fell 7%.
The Aberdeen Evening Express was down 10% to 43,000, and the Dundee Evening Telegraph fell 5% to 22,500.
The six-monthly update from the Audit Bureau of Circulations does not include 'national'-designated titles, such as the Scotsman and the Daily Record.
The Herald and Sunday Herald last month opted out of the monthly national audit, and will join the regional titles' figures when they are next published in February 2013.
Local papers
Of more local papers, the only paid titles to keep sales from falling since the first half of 2011 were the Alloa and Hillfoots Advertiser, the Border Telegraph, the Milngavie and Bearsden Herald and the Orcadian.
Over the past six months, in addition to the Press and Journal, the only other titles to avoid a fall were the Glenrothes Gazette and the Midlothian Advertiser.
Among the more significant local titles to lose circulation, the bigger falls included the Ayrshire Post, down by 10% to 20,000.
Sales of the Perthshire Advertiser fell by 7%, with the two editions each week together having average sales of 17,400.
The Southern Reporter was down 7% to 14,000, and the West Lothian Courier was down 13% to 11,600.
Local and regional newspapers have suffered similar patterns of falling circulation as national titles, which have been shedding readers, many of them seeking their news online, where advertising has also been migrating.
The average circulation figure for the Scotsman in July showed it falling below 35,000. The Daily Record's Scottish sales went below 250,000, and the Scottish Sun sold fewer than 300,000. In April, the Herald fell below 50,000 average daily sales.