Royal Mail gun ban plans 'would cost jobs'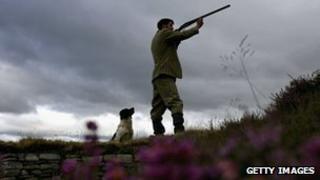 Plans by Royal Mail to ban the posting of guns and component parts from its services would lead to rural businesses closing, gamekeepers have claimed.
Royal Mail has launched a consultation proposing a ban on the transport of all firearms, including sporting guns.
It said it was acting to ensure its terms and conditions were consistent with existing firearms legislation.
But the Scottish Gamekeepers Association (SGA) argued the move would directly lead to rural job losses.
SGA said it meant gunsmiths would not be able to post spare parts to customers in remote areas.
It called on its 5,300 members to register their concerns by the consultation closing date of 17 September.
'Widespread concern'
SGA claimed Royal Mail's move had led to "widespread concern" among those who supported sporting shooting in Scotland.
It also said the transportation of firearms and components had been managed safely for years, with no recorded evidence of guns or parts falling into the wrong hands.
SGA chairman Alex Hogg said: "Should this come to pass, it will have a direct impact on people's livelihoods.
"The gunshops will not be able to post parts to customers, so that trade will be cut off.
"Other carriers charge much higher prices so the costs will make it prohibitive for legitimate stockists and their clients to do business remotely. The only alternative would be for people to get in their cars and travel hundreds of miles to pick up parts."
He added: "At a time when there are major concerns already over fuel costs in rural areas, this is another nail in the coffin for honest people trying to do their jobs in the countryside.
"We are hopeful Royal Mail see sense because people trust the service. If it is lost, it may also have an adverse effect on their business and reputation."
A previous attempt by Royal Mail to ban all firearms in the mail failed in 2005 when regulator Postcomm rejected the proposal.
Dangerous goods
In launching its latest consultation, Royal Mail said: "Following an internal review of policy related to the carriage of dangerous goods we have become increasingly concerned that we are operating in a way that is inconsistent with firearms legislation when we carry guns for sporting use.
"Weapons of war are prohibited from our postal network but currently we do carry guns for sporting use as restricted items.
"Therefore we are proposing to amend the wording of the (postal) schemes to enable us to comply with relevant firearms legislation."
Royal Mail added that it expected the impact on customers to be "minimal", pointing out that Parcelforce Worldwide would continue to offer a service for registered firearms dealers.