Online sales surge for kilt hire firm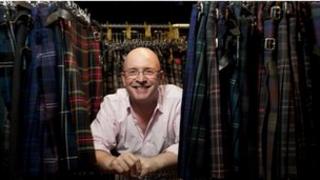 A kilt hire company which was hit by the impact of tramworks around its busiest store in Edinburgh has reported booming online sales.
The Kilt Store said online sales and hires nearly trebled to more than £100,000 in the year to April.
The Dalkeith-based company said the increase came after it developed an innovative new online software programme.
The "I-hire" software integrates hire stock with a till system.
The company also overhauled its online shop after retail sales suffered from the dual impact of the recession and the Edinburgh tramworks.
The Kilt Store founder and managing director Paul Swadzba said he decided to turn to technology to boost business in challenging times.
He said: "It didn't take us long to discover there was no solid integrated hire system on the market.
Integrated system
"What was essential software in our industry seemed to be a thing of the future, so we decided to develop it.
"What was required was an integrated system that would communicate with a till system. We travelled across the country in search of hire systems, but found none suited to our business.
"What we did find was a talented programmer, who then came to work with us at The Kilt Store. I-hire was completed and has been running with huge success."
The company is now planning to roll out I-hire and make it available as a tool to other kilt hire retailers.
The Kilt Store launched in 1991, and has since expanded from its Musselburgh base to open outlets in Leith, Haymarket, Dalkeith and Dundee.