Scottish Tory leader Ruth Davidson backs third runway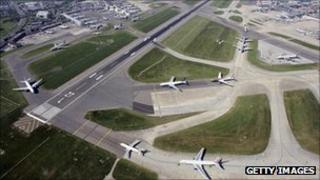 Scottish Conservative leader Ruth Davidson has changed her stance and added her voice to supporters of a third runway at Heathrow.
Ms Davidson said the move would be in Scotland's economic interests.
Her U-turn came after the UK government said it remained opposed to another runway, despite calls from Conservative MPs for a change of heart.
Last week the Scottish Chambers of Commerce said a third runway would benefit Scottish business.
Writing in Scotland on Sunday, Ms Davidson said: "As a Westminster candidate in the 2010 election, I campaigned on a manifesto containing opposition to a third runway, but priorities - and economic landscapes - change."
Ms Davison said a two-runway Heathrow would lead to a reduction in connections between Scotland and London, and force long-haul passengers to travel to other airports in Europe, such as Amsterdam's Schiphol, for flights to the rest of the world.
She wrote: "In politics, you need to be big enough to change your mind and I believe there is now an overwhelming argument for a third runway.
"However, for business in Scotland to enjoy the full benefits of this extra capacity, air passenger duty must also be scrapped."
Ms Davidson said taxes on air travel were now higher in the UK than anywhere else in the world.
Last week Tory MP Tim Yeo urged a U-turn on Heathrow policy, insisting that expansion of Heathrow would give the Government "a sense of mission".
The Scottish Chambers of Commerce (SCC) has also called for a third runway, claiming it would provide an opportunity for extra routes for Scotland and potentially reverse a decline in Scottish connectivity to Heathrow.
A spokesman for the Scottish government said: "The third runway is a matter for Westminster but the Scottish government's priority is to encourage routes to and from Heathrow that will support business opportunities and encourage inbound tourism for Scotland and to see high speed rail from Scotland to London as soon as possible.
"The significant Air Passenger Duty rises confirmed by the UK government and which took effect in April 2012 with further planned rises from April 2013 can be expected to exacerbate the extremely difficult situation being experienced by our aviation sector."