Online dating firm Cupid buys uniform dating site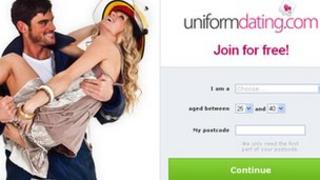 Edinburgh-based online dating firm Cupid has bought niche site Uniform Dating for up to £7m as it continues a rapid expansion drive.
Cupid is to issue £3.6m worth of shares to help pay for the purchase.
The site is aimed at uniformed services personnel such as firefighters, nurses, armed forces and police.
The deal is the latest in a string of Cupid acquisitions which have included amour.com site operator Assistance Genie Logiciel (AGL).
AIM-listed Cupid will pay £3.6m on completing its latest purchase. Up to a further £3.4m will be paid out if the business meets certain financial targets next year.
Uniform Dating has about 500,000 registered members, and has more than doubled its subscribers over the last two years.
It draws its membership mainly from the UK, but also has local versions which were recently launched in the US, Canada and Australia.
Uniform Dating's turnover last year was £2.5m.
'High quality business'
Cupid chief executive Bill Dobbie said: "We are very pleased to add a further high quality business to the Cupid family of dating sites.
"Uniform Dating is a fast growing, profitable business which is a dominant player in the uniformed personnel dating niche and fits perfectly into our portfolio of sites.
"We look forward to driving Uniform Dating's growth further through our international footprint and marketing expertise."
He added: "The acquisition further demonstrates our ongoing plan to drive earnings and shareholder value both organically and through strategic acquisitions."
Cupid claims a base of more than 34 million members in 39 countries, and made pre-tax profits of £7m in 2011.
It specialises in three main areas - traditional dating, casual dating and niche dating sites.