'Sharp rise' in temporary jobs in Scotland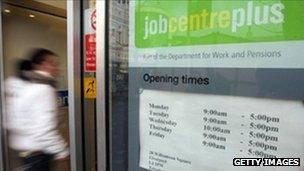 The number of temporary jobs rose sharply in Scotland last month, according to a survey of recruitment agencies.
The Bank of Scotland Report on Jobs said one in three agencies reported an increase in temp staff billings.
The rate of growth was the fastest in four months and much stronger than the UK average.
However, the survey also recorded a second consecutive monthly fall in permanent placements.
The rate of decline was the fastest recorded since last December.
The number of candidates placed into permanent work also fell across the UK as a whole, although Scotland saw a sharper decline overall.
The survey also indicated an increase in vacancies for both permanent and temporary jobs.
Scottish recruitment firms reported slightly higher average permanent salaries in August, in contrast with falls reported in June and July.
Demand for temporary staff increased in seven Scottish employment sectors in August.
Sector data suggested the strongest increase in available temp job roles was seen in IT and computing, while engineering and construction saw a marginal rise.
Bank of Scotland chief economist Donald MacRae said: "The Scottish labour market showed a welcome improvement in August with increases in temporary jobs and a rise in vacancies for both permanent and temporary jobs.
"However, appointments to permanent jobs fell for the second successive month, illustrating the challenge of maintaining the overall trend of increasing employment.
"The Scottish economy is showing resilience in the face of the global slowdown."
The Scottish government said the latest report builds on last week's labour market statistics, which showed that the employment rate in Scotland has continued to climb and remains higher than the UK rate.
A spokesman added: "The Scottish government and our agencies are supporting economic recovery by investing every penny we can in capital infrastructure to build houses, schools and roads to stimulate growth and create jobs."