Alasdair Gray Glasgow subway mural is unveiled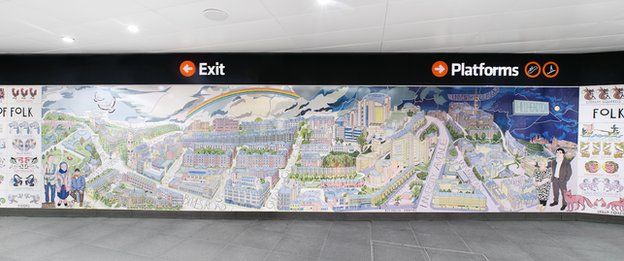 Renowned Scottish writer and artist Alasdair Gray's latest work has been unveiled on the back wall of a refurbished Glasgow subway station.
Mr Gray has created a 2m x 12m mural for Strathclyde Partnership for Transport's Hillhead station.
He was approached to undertake the work because of his strong links to the Hillhead area and Glasgow's West End.
SPT said it was commissioned as part of a drive to put art at the heart of a station modernisation programme.
The project was developed over 14 months in co-operation with fellow artist Nichol Wheatley from bespoke art specialists Perfect Circle Art, who used a pioneering method of working with ceramics for the mural.
Mr Gray said: "The station is in the centre of Hillhead, which I know well.
"Kelvingrove Art Gallery and Museum, the old BBC building and Botanic Gardens had been among my favourite places since the age of 11.
"I have lived and worked in the district since 1969, and I knew I would enjoy depicting it, and those who use the subway, in a symbolic and humorous way."
He added: "This has been a highly detailed and complex work.
"My crazy vanity that wants to produce big and impressive things has carried on as usual, but I am happy with the outcome, and I hope others will enjoy it as well."
SPT has started completely revamping Glasgow's ageing subway system at an estimated cost of nearly £290m.
The project will see all 15 stations redeveloped and new driverless trains brought in.
Disabled access will be improved on the six-mile long system and a smartcard ticketing system added.
SPT vice-chairman David Fagan said: "Hillhead is the first of our stations to be modernised, and we wanted to take this opportunity to make a bold statement about the importance we place on art in the subway.
"Hillhead will become the standard bearer for all other stations on our network.
"To have such a large-scale piece of public art by such an important international artist shows just how high we are aiming in improving the look and feel of stations for our passengers and those who work in them."
Related Internet Links
The BBC is not responsible for the content of external sites.