Lomond Capital enters Aberdeen property market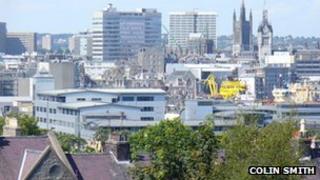 Lettings specialist Lomond Capital has made a major move into the Aberdeen property market by acquiring two established businesses.
The purchase of lettings agency Simpson Brebner and property management firm KWAD is part of a £45m strategy to consolidate the UK lettings market.
The Edinburgh-based firm now has 900 properties under management in the area, with 20 staff in Aberdeen.
Lomond said it planned to buy more local businesses in the future.
It has already entered Edinburgh's competitive lettings market and is "actively working" on planned acquisitions in Glasgow, Manchester and Birmingham.
Simpson Brebner managing director Bill Brebner is to become chairman of Lomond Capital Aberdeen, representing the company's interests in the area.
Lomond Capital chief executive Stuart Pender said: "Aberdeen has a very attractive property market offering the highest rental yield in Scotland.
"We are delighted to have acquired two very well-run companies with great experience and local knowledge.
"Our strategy to consolidate the lettings market is progressing well and we see Aberdeen as a critical part of that evolution."