May Gurney announces plans to shed up to 250 posts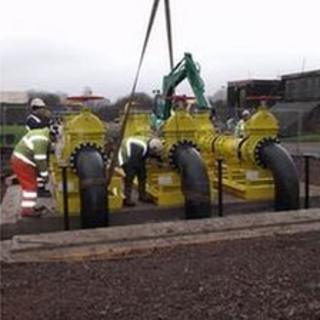 Infrastructure support services company May Gurney has announced plans to shed up to 250 jobs in Scotland.
The firm said it was taking the step after a major client, Scotia Gas Networks (SGN), revealed plans to cut the amount of work it outsourced.
The proposed job losses will affect employees supporting SGN's activities in Aberdeen, Dundee and Falkirk.
May Gurney said it was working with SGN to keep the impact of the cuts "to a minimum".
Steps include an agreement with SGN to retain some mains replacement and all new connections work in the north-east of Scotland until 2014.
In a statement, the firm said: "While May Gurney will continue to work with SGN in a strategic partnership, this decision will result in a significant reduction in the work we undertake for the group in Scotland and, also, our staffing requirements going forward.
"As a result, we have entered into consultations with our staff and anticipate that up to 250 people could be affected by this development.
"We will be working with employee representatives to seek alternative roles for our people and anticipate a number of those impacted could be redeployed."
It added: "In addition to continuing our discussions with SGN, we have also been working with one of our other long-term clients - Scottish Water - with a view to using transferable skills and retraining to create new jobs on the contract we deliver for them."
Alex Salmond, who is the MSP for Aberdeenshire East, said: "I have spoken with the managing director of the company and, while details of the spread of job losses are not yet available, there are likely to be around 50 affected employees in the north east of Scotland, of the total job losses across Scotland.
"Of primary concern is to mitigate the effects of any potential redundancies, and I welcome that the Scottish government's Partnership Action for Continuing Employment (Pace) team has been mobilised to ensure the workforce is offered the maximum guidance and support on advice and retraining.
"The workforce holds a good degree of skills which can be transferred into other areas and I will be seeking calls with relevant agencies to explore what opportunities exist to utilise the skills of those facing job losses."
Profits warning
Earlier this month, May Gurney issued a profits warning and announced that its chief executive would leave the firm with immediate effect.
The company in part blamed the loss of a contract to renew and maintain gas mains for Scotia Gas Networks, which is a subsidiary of SSE.
May Gurney's clients in Scotland include Network Rail, Scottish Water, SSE, Fulcrum and Nokia.
The firm said it remained "totally committed" to growing its operations in Scotland, where it employs 600 people.
In January last year, May Gurney bought Aberdeen-based maintenance company Turriff for £13.6m.
Turriff hold interests in gas, water, electricity and multi-utility services.