Irn Bru firm AG Barr reports sales up but profits down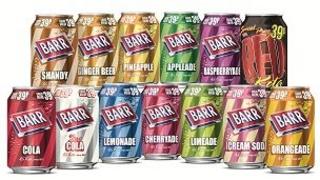 Irn Bru maker AG Barr has seen profits fall despite strong sales growth in the six months to the end of July.
The Cumbernauld-based company said pre-tax profit fell by £1.3m to £14.9m, while sales rose by 4.9% to £130m.
It described competition in the soft drinks market as "intense", thanks in part to major events such as the 2012 Olympic Games.
The firm also said operating margins were hit by increased raw material costs, particularly sugar.
AG Barr added that its core brands Irn Bru, Rubicon and Barr were "in good health" and well positioned to continue to grow into the future.
In a statement, the company said: "We are pleased to report that we have once more outperformed the soft drinks market in sales revenue and volume growth terms.
"This is despite the ongoing difficult general economic environment and the well reported poor summer weather."
AG Barr said trading had been made more intense by competitors using promotions to increase volumes.
"Many major brands have increased the volume of sales promoted through 'buy one get one free' and less-than-half-price activity," it said.
'Measured' response
"We have responded in a measured way by selectively increasing our promotional activity to compete for consumers, being very aware of the importance of achieving a sensible balance between good everyday pricing of quality products and maintaining brand equity."
AG Barr added it expected trading to "remain challenging" over the coming months and remained confident about its prospects as long as there was no further deterioration in the market.
The firm also reported that talks were continuing with Tango maker Britvic over a possible £1.4bn merger.
Earlier this month AG Barr approached its Essex-based rival about a potential tie-up, claiming the deal could create one of Europe's leading soft drinks companies.
Britvic's other products include Robinsons, J2O and Fruit Shoot.