John Clark Motor Group reports record results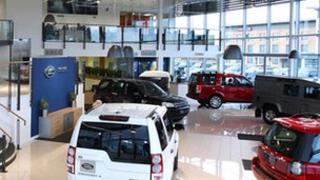 One of Scotland's biggest motoring firms has reported record results for the second year running.
The John Clark Motor Group said turnover climbed by 10% last year to £308m, with operating profit up by 21% to £5m.
New vehicle sales increased by 19% during 2011 to a new record of 7,000 units.
However, the Aberdeen-based firm warned it expected the next year to be "quite challenging".
The group said its multi-franchise trade parts division saw strong growth in 2011, following the opening of a new site in Dundee.
The company also extended its Skoda franchise network, opening Specialist Cars Skoda in Dundee and acquiring the Thomson and Potter dealership in Burrelton, near Perth.
The group opened a new centre in Dundee, extending its Volkswagen van franchise from Edinburgh, through Fife and Dundee, to Aberdeen.
A new van showroom and enlarged workshop were completed in Aberdeen.
The growth and expansion in existing businesses resulted in a 4% increase in the group's workforce to 708.
Further growth in 2012 has taken the total number of employees to more than 750.
The group said turnover had continued to grow this year by 15%.
'Quite challenging'
Chairman and managing director John Clark commented: "Our aim for 2011 was to build on the momentum in 2010.
"Despite continuing difficult trading conditions, we have succeeded and much of that can be credited to the hard work and dedication of our dealership teams."
He added: "Looking to the future, 2012 has started well, but we expect the second half of this year and next year to be quite challenging. Consequently we shall be looking closely at opportunities to grow our after-sales activity, while controlling costs."
The group operates 18 motortrade businesses, including BMW, Mini and Audi dealerships in Aberdeen and Dundee, Land Rover in Edinburgh and Volkswagen vans in Edinburgh, Dundee and Aberdeen.