Empty shops rates incentive proposed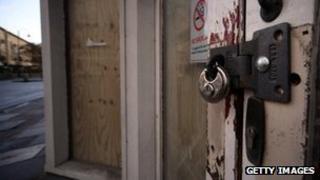 Scottish firms could be in line for a discount on their rates bill for bringing empty commercial properties back into use.
Ministers plan to enable new occupants of shops or offices that have been empty for at least a year to apply for a 50% discount on their business rates for 12 months.
The proposal has been put forward by local government minister Derek Mackay.
He hopes it will help rejuvenate Scotland's high streets.
Mr Mackay will put forward an amendment to the Unoccupied Properties Bill, which also includes plans to cut the discount firms receive on empty properties.
Currently, businesses can get a 50% discount for vacant premises but the Scottish government wants to reduce this to 10%.
Business lobby group CBI Scotland has already branded that proposal as a "tax on distress".
'Fresh start'
Mr Mackay said introducing a rates discount for companies taking on empty premises would "give empty properties a fresh start".
He commented: "I want to see local high streets across Scotland thriving and empty properties brought back into use across the country.
"I believe it is important we take action, during tough times, to encourage people to set up shop, open up premises and start new businesses in our unused buildings.
"By offering a 50% discount to anyone bringing a shop or office that has been empty for 12 months or more back into use, this scheme will help to bring businesses back to our high streets and give empty properties a fresh start."
He added: "In these challenging economic times, it is important that we ensure business rate reliefs maximise opportunities and allow Scotland to retain its position as the most supportive business environment anywhere in the UK.
"These proposals will give start-up companies the chance to utilise properties that were previously outwith their means, as well as providing support where expanding business move into larger premises."