Scottish Power owner in UK networks stake sale talks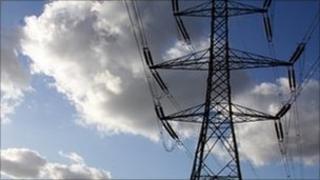 The Spanish company that owns Scottish Power is in talks to sell a stake in its distribution and grid networks.
BBC Scotland understands Iberdrola wants to share the cost of up to £8bn of planned investments to upgrade the electricity system in the south of Scotland, north-west England and Wales.
The current assets in that division are valued at more than £5bn.
The sale of a minority stake would also help reduce the Spanish company's large debts of 29bn euros (£23bn).
Iberdrola did not comment on what it described as "market speculation", sparked by a report in a Spanish financial newspaper on Thursday.
However, a source with knowledge of the talks confirmed they were under way.
It is understood the talks with potential investors are over a minority stake, and there are no plans to change the way the distribution and networks division of Scottish Power is managed.
There are no plans to sell any part of the company's retail or renewable energy divisions.
Investment talks
Iberdrola intends to continue viewing its UK subsidiary as a key part of its investment plans, with a new flagship headquarters office planned for central Glasgow.
On Wednesday, chairman and chief executive Ignacio Galan met Chancellor of the Exchequer George Osborne at the Treasury in London to discuss investment plans and to press for a clear pricing signal for renewable power investment from the government's Energy Market Reform programme.
Following the meeting, Mr Galan said: "The energy sector remains a significant driver for economic growth and employment in the UK.
"The country will be one of the main destinations for Iberdrola's investments in the coming years, given the energy requirements and the stable regulatory framework it provides."