Goals Soccer Centres hit by takeover bid fees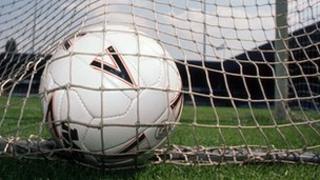 Goals Soccer Centres has reported a fall in profits, after taking a hit from an aborted takeover of the firm earlier this year.
The five-a-side football company said pre-tax profits fell to £1.6m from £4m last year, as sales rose 11% to £16.3m in the six months to the end of June.
Net one-off costs of £2.8m included professional fees for an attempted takeover by a pension fund.
The bid by the Canadian fund was later rejected by shareholders.
Net exceptional costs included a total of £1.3m in professional fees for the takeover bid and a successful appeal against a tax ruling by HMRC, which saw the company claw back an estimated £500,000 from tax officials.
A further £2m was written off for development costs associated with switching from traditional build centres to a modular version.
The company said the modular build concept, instead of using a bespoke design for each centre, substantially reduced capital expenditure and build time.
Share placing
The firm, which has been weighed down by bank debts, also announced it had raised about £2.8m through a placing of new shares
Goals said the proceeds would be used to provide "additional balance sheet flexibility".
The company wants to reduce its current net debt level of £53.9m to under £40m before the end of 2014.
Goals managing director Keith Rogers said: "2012 has proven to be an eventful period for Goals with a number of positive outcomes that deliver on-going benefits for our business including the opening of our first modular build site in Chester, which is performing as management had expected, and a successful appeal against HMRC's decision concerning league bookings and VAT.
"As Goals has grown significantly in size we are now also able to take advantage of our national presence and benefit from promotions and sponsorships deals that our size now affords."
Goals, which employs about 800 people, operates more than 40 outdoor centres in the UK and one in the US.