Scottish pubs and restaurants 'at risk of going bust'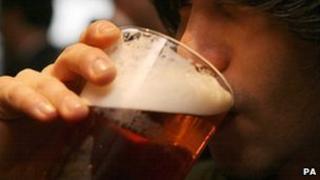 Hundreds of pubs and restaurants are at risk of going bust, according to the insolvency trade body, R3.
R3 said analysis of data had found 103 restaurant businesses and 63 pubs in Scotland had a high risk of going under within the next 12 months.
A further 522 restaurants and 225 pubs are vulnerable to failure within the coming year.
The insolvency body said this was an "alarming indication of just how bad the economy continues to perform".
The hospitality sector was proving more vulnerable than other parts of the economy, according to the research.
More than one third of all restaurant businesses and 27% of all pubs in Scotland were at risk of failure within the next 12 months.
This is compared with a cross-sector average of 21% businesses in Scotland in a similarly weak position.
John Hall, Scottish R3 council member, said: "These figures are shocking but perhaps not surprising.
"We have already seen that the retail and hotel sectors are vulnerable so it is to be expected that other areas of discretionary spending such as restaurants and pubs will be susceptible to the continuing economic downturn and lack of confidence among Scottish consumers."
He said that consumers had adopted an "entrenched siege mentality which encourages austerity and discourages non-essential spending".
"The result is that the sectors which cater to discretionary spending are suffering," he added.