Former Macallan chairman Allan Shiach sells collection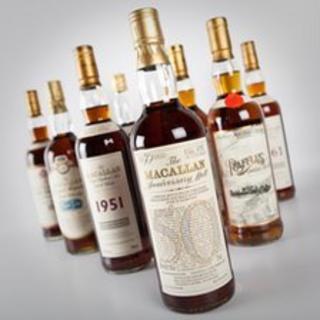 A former chairman of Macallan is putting his private collection of single malt whisky up for sale.
A collection of 72 bottles owned by Allan Shiach will go under the hammer at auction in Glasgow later this month.
The lots include two bottles of Macallan which were distilled in 1928 and are worth an estimated £10,000 each.
Mr Shiach said he was selling the bottles as they "were too valuable to drink and too rare to replace".
Other rare bottles up for sale at McTear's Auctioneers include a 1951 single malt, which is expected to fetch £3,000, and two rare bottles of 1946 Macallan.
Elgin-born Mr Shiach began his career in the whisky industry almost 50 years ago and later became chairman of Macallan-Glenlivet.
He remained at the company until 1996 when the company was taken over by present owners Edrington Group in 1996.
Mr Shiach became well known as a screenwriter and producer under the name of Allan Scott. His credits include acting as executive producer of the hit film Shallow Grave.
The lifelong whisky enthusiast said: "These whiskies are a slightly random selection of bottlings which particularly interested me in the marketing of the brand.
"They have been kept at my home in Moray and now, realising they were too valuable to drink and too rare to replace, I decided to share the proceeds of the sale with a charity and to offer worldwide collectors an opportunity to enhance their inventory with some Macallan items not often seen."
McTear's whisky specialist Stephen McGinty said: "This is not merely an exclusive selection from one of the iconic Highland distilleries, but a reflection of one man's lifelong dedication to style, quality and tradition."