Chivas Brothers reveal plans for new Speyside distillery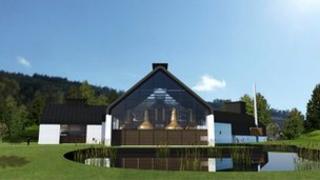 A major new distillery is being planned for Speyside by Chivas Brothers.
The French-owned firm, part of Pernod Ricard, wants to build on the site of the Imperial distillery near Carron, which has not been used for 14 years.
It would mean an increase of 10% in the company's malt whisky distilling capacity, meaning 5 million litres of additional spirit each year.
The plans are at an early stage of consulting the local community and council planners.
No value is being placed on the proposed investment, ahead of a market update by Pernod Ricard next week.
Visible from the Speyside Way walking trail, the new building is intended to blend in with the riverside and traditional architecture.
Christian Porta, chairman and chief executive of Chivas Brothers, said: "Our success in growing our brands across the world, in existing and new markets, to many historical highs means that creating new distillation capacity is a key next step for our business.
"This new distillery will supply high quality Speyside malt whisky for many of our blends in the years to come.
"This is another example of our sustained investment in our Scotch whisky operations which, combined with consistent innovation and marketing, will continue to drive the growth of our business."
Global sales
In May, the company announced plans to grow its malt whisky distillation capacity by 25% by April 2013. It is reopening the Glen Keith distillery and expanding four other Speyside distilleries and in 2010, it increased the capacity of its Glenlivet distillery by 75%.
Chivas is the second biggest company in Scotch whisky, with 21% of the market.
It produces Chivas Regal, Ballantine's Beefeater Gin, The Glenlivet, Royal Salute, Aberlour, Scapa, and 100 Pipers.
The expansion plans are in line with industry expectations that global sales of whisky will continue to grow strongly. The dominant player, Diageo, is spending £1bn in new investments, announcing earlier this week that it is expanding a distillery at Muir of Ord on the Black Isle.