Aggreko shares down on profit warning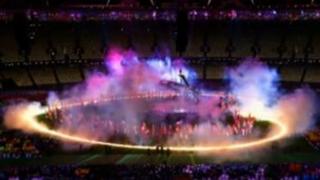 Shares in temporary power firm Aggreko fell by more than 7% on Friday after it issued a profit warning for the year.
The company reported underlying sales growth of 13% in the third quarter, but said increasing bad debts and a currency hit would impact full-year profits by 2.5%.
The profit warning came despite a £59m boost from its contract to supply power for the London 2012 Olympic Games.
Glasgow-based Aggreko described its third-quarter results as "robust".
Aggreko's local division - which handled the Olympics - delivered a better-than-expected performance in the quarter, with underlying revenues up 11%.
The local business operates from about 133 service centres in 31 countries and rents out products ranging from small generators to large cooling plants.
Its international power arm - which serves utilities, governments, armed forces and major industrial customers with power plants ranging from 10 megawatts to 100 megawatts on a single site - saw order intake below a year earlier.
Last month the company announced it was creating a new global management structure in a bid to support future growth.
Its plans include the creation of three regional units - Europe, the Middle East and Africa (EMEA), Asia, Pacific and Australia (APAC) and the Americas - from the start of next year.
Aggreko said the new structure would create a more balanced organisation, with each of the units accounting for 30-40% of group trading profit.