Stagecoach raises $150m through US debt issue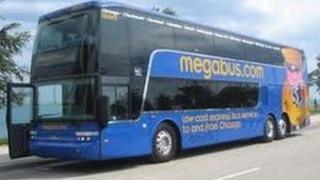 Transport group Stagecoach has raised $150m (£93.6m) through the issue of debt to cover the cost of buying several businesses from a US bus firm.
The Perth-based firm said it had issued 10-year notes in a private placement transaction with US investors.
The money will be used to repay bank loans that were initially used to finance the purchase of nine businesses from Coach America in July.
They included operations in Texas and California.
Stagecoach paid out a cash sum of $134.2m (£86.3m) for the businesses and also bought a number of coaches.
The US firm, which is headquartered in Dallas, was placed under Chapter 11 bankruptcy protection in January.
At the time the deal was announced in May, the Scottish group said the businesses it was acquiring would provide depot infrastructure, enabling it to expand its megabus.com budget coach network in the US.
Stagecoach said its latest move would increase its "borrowing headroom" and further diversify its sources of funding.
Group finance director Martin Griffiths said: "We are pleased by the successful issue of these 10-year notes, which was substantially oversubscribed by investors.
"We believe the level of support from investors for this issue underlines the group's strong financial position and positive prospects."