Clydesdale Bank owner boosts bad loan provisions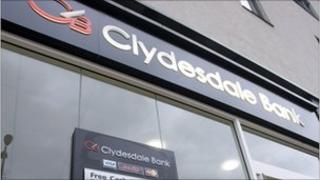 The Australian owner of the Clydesdale and Yorkshire banks has boosted its provisions to cover bad loans by $250m (£161m), citing deteriorating economic conditions in the UK as a major reason.
National Australia Bank (NAB) said the top-up was a "prudent" response to continuing sluggish economic recovery.
The bank said the move would not adversely affect the group's capital position.
In April, NAB announced big cuts to the Clydesdale and Yorkshire banks.
They included the loss of 1,400 jobs, an exit from commercial property lending and a scaling down of its business operations, mainly in England.
In a statement on Friday, NAB said: "The Australian economy remains comparatively strong but lower global growth expectations, divergence in business conditions across sectors and low levels of consumer and business confidence have reduced the outlook for economic growth in 2013.
"Furthermore, in the last three months, conditions in the UK have deteriorated and economic recovery is likely to be slower than previously expected."
It added: "As a prudent response to these current economic conditions, National Australia Bank Limited (NAB) has increased the economic cycle adjustment on its collective provisions by $250m ($175m post tax) as at 30 September 2012."