Business groups unite against empty shops rates move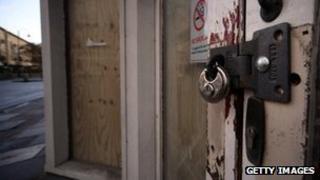 Scotland's main business groups have joined forces to urge MSPs not to cut rates relief on empty buildings.
The call came ahead of a parliamentary vote on an unoccupied properties bill.
It includes plans to cut the rates discount firms can receive on vacant commercial properties from 50% to 10%.
Business leaders claimed it would add £18m a year to overall rates bills but ministers said empty property relief would remain "significantly more generous" than in England and Wales.
Last month, local government minister Derek Mackay announced plans to enable new occupants of shops or offices that have been empty for at least a year to apply for a 50% discount on their business rates for 12 months.
He said he would also put forward an amendment to the Unoccupied Properties Bill which would cut the discount firms receive on empty properties.
The measures were drawn up in a bid to help rejuvenate Scotland's high streets.
'Wrong approach'
However, business groups - including the Scottish Retail Consortium, CBI Scotland, the Scottish Property Federation and the Scottish Chambers of Commerce - released a joint statement outlining their opposition to the proposed reforms.
CBI Scotland director Iain McMillan said: "This increase in taxation will make it more expensive for firms to invest and create jobs and is simply the wrong approach.
"Far from being an 'incentive' to encourage the use of empty properties, for many firms this tax rise feels more like a stick than a carrot.
"After all, commercial premises are rarely left empty on purpose as they do not generate an income. Ultimately this proposal remains a tax on distress."
Scottish Property Federation director David Melhuish said increasing empty property rates costs was "a major blow" to businesses and investors.
He added: "This will lead to further administrations as landlords struggle to pay an 80% increase in their vacant rates costs and will put pressure on ratepayers who cannot sub-let or dispose of unwanted property assets.
"The increase in vacancy costs is also another deterrent to new commercial development. This is a dangerous tax rise at exactly the wrong time in the economic cycle."
Garry Clark, from the Scottish Chambers of Commerce, said: "The Scottish Parliament needs to consider carefully the effects that this measure would have on businesses and communities across the length and breadth of Scotland.
"We all want to see vacant premises brought back into use, but this is not the way to go about it."
'Competitive rates'
A Scottish government spokeswoman said the suggested reforms would encourage landlords to let out empty properties as well create new rates discounts for entrepreneurs who take on these properties.
She added: "Reform of empty property rates, which currently costs over £150m a year, is only part of our proposals to support town centres.
"We remain focused on maintaining Scotland's position as the most competitive environment for business and Scotland has the most competitive rates regime in the UK.
"The total relief package offered by Scottish government now exceeds £500m per year and has either eliminated or substantially reduced business rates for three out of every five commercial properties."
She added: "Even after proposed reform, empty property relief will remain significantly more generous than that offered in England and Wales and under our Fresh Start proposals new occupants of vacant shops or offices may be eligible for a 50% discount on their business rates for 12 months."
Scottish Conservative local government spokeswoman Margaret Mitchell said the Scottish government's plans were "damaging a vital sector at the worst possible time".
She added: "So far the Scottish government has ignored the business community, but it is clear given the confirmation of the disastrous effects of the bill, this position is not sustainable and that the views of so many influential business figures cannot be ignored any longer."