Mactaggart and Mickel reports fall in profits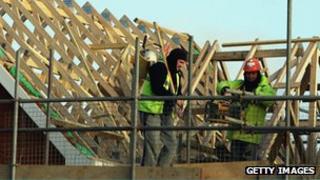 Building firm Mactaggart and Mickel has reported a fall in turnover and profits in "difficult" market conditions.
The group said turnover reached £38.5m in the year to April 2012, down from £48.1m in the previous year.
Pre-tax profits also fell, from £4.3m to £2.86m.
However the Glasgow-based builder reported increasingly strong performances across several divisions, following moves to diversify the business.
It highlighted "steady home sales" in the early part of the year, against a backdrop of "constrained" mortgage availability.
Its timber systems division saw turnover rise by 45% and profit grew 12-fold as it secured more than £1m in sales.
The group said new premises had increased its capacity to meet demand from contract wins and deliver 228 homes for the 2014 Commonwealth Games Athletes' Village.
'Well placed'
Increased presence in the affordable housing market also helped contracts turnover grow by 31% to £6.4m.
Mactaggart and Mickel said a £35m pipeline of future work meant the division was "well placed" to achieve its target turnover of £16m by 2013.
Chief executive Ed Monaghan said the company was now seeing the benefit of a diversification strategy implemented three years ago in response to changing market conditions.
"Our performance in this financial year has been sound, reporting a respectable profit and some strong results across individual business units," he commented.
"The past year has seen us progress some exciting projects - from launching three new housing developments to securing one of the first public private partnerships using the groundbreaking National Housing Trust funding model.
"Added to which we are now able to offer the Scottish government-supported initiative MI New Home scheme for purchasers.
"And after a fantastic summer for British sport we are even prouder of our role in delivering the 2014 Commonwealth Games Athletes' Village as part of the City Legacy consortium," he added.