Wind industry 'on track' to power 10% of homes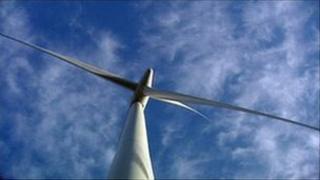 The wind industry is on track to power one in 10 homes by 2015, according to the trade body for UK renewable energy firms.
RenewableUK said wind energy capacity grew by a quarter (1,825MW) between June last year and September 2012.
It also claimed the amount of onshore wind capacity being approved at local level had risen.
The figures were released at RenewableUK's annual conference and exhibition in Glasgow.
The organisation said decisions on wind projects at local level were being made faster than they were last year, suggesting that developers, communities and local government were "working together better than ever before".
Its annual State of the Industry report claimed a record 1,701MW of wind projects were approved onshore this year, compared to 1,142MW last year - a jump of nearly 50%.
It added that under current rates of progress, the UK would have 13.5GW of wind capacity in operation - onshore and offshore - by the end of 2014.
'Significant strides'
RenewableUK chief executive Maria McCaffery argued the industry had "taken significant strides forward".
She commented: "2011-12 saw overall capital investment in the offshore wind industry rise by 60% to £1.5bn and a record amount of onshore wind capacity approved, with Scotland leading the way.
"These strong figures underline the importance of a secure trading climate to attract investment, especially in difficult times.
"That's why it's so important that the framework provided by the Energy Bill, currently under parliamentary scrutiny, must be right."
She added: "Although we still have a long way to go to meet our challenging targets, we are firmly on track and gathering momentum."