Stagecoach pays £3.2m for new fleet of Megabus coaches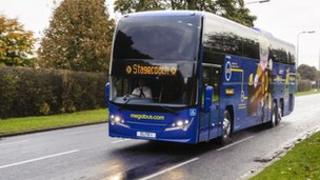 Stagecoach are to spend £3.2m on 11 new buses for its Megabus inter-city travel service.
The fleet of 15m-long coaches will be delivered in December and introduced on Megabus routes covering Scotland and England.
Megabus.com now covers around 60 locations across the UK and carries about five million passengers a year.
Perth-based Stagecoach said the Plaxton Elite i coaches had 20% extra capacity than its existing coaches.
They will be manufactured by the Falkirk-based firm Alexander Dennis Limited, and will operate mainly on two routes: Glasgow to London and Preston to London, although they may also be used on some London to Leeds and London to Plymouth services.
Ian Laing, general manager for megabus.com, said: "Demand for great value inter-city travel just keeps on growing, especially with the rising cost of owning and running a car and the further stretch on household budgets.
"These new state-of-the-art coaches will deliver more capacity on key routes we operate in the UK.
"We have worked closely with Plaxton over the past 10 months on developing this new model.
"It sets new standards of accessibility for our customers with impaired mobility, as well as offering great comfort all round. The new fleet will also provide even greener travel for our customers and a lower carbon footprint for our business."