Weir Group warns on economic uncertainty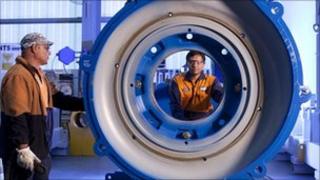 Engineering firm, Weir Group, has reported a drop in third quarter orders but has said full year profits will be in line with expectations.
Orders between July and September fell by 8% compared to the same time last year.
However despite this, the Glasgow-based group said it was on track to deliver full-year profits of between £440m-£450m.
Weir warned that conditions remained mixed across its markets.
In a statement it said these had been "impacted by increasing global macro-economic uncertainty and resultant declines in certain commodity prices".
The company said it its mineral division had been affected by "industrial unrest in the South African mining sector although strong activity levels continued across the rest of Africa".
Shares in the group rose by 3% shortly after the trading statement.