Pollphail 'ghost village' sold for £250,000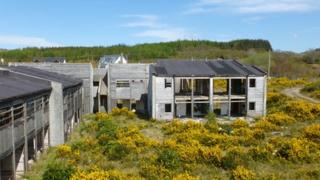 An abandoned village in Argyll and Bute is set for redevelopment after being sold by administrators.
The "ghost village" of Pollphail, which overlooks Loch Fyne, was bought by a forestry firm for more than £250,000.
The sale was announced by accountants French Duncan, who were acting as administrators of Portavadie Village Ltd.
Pollphail was built to house workers at a construction yard in Portavadie during the UK oil boom of the 1970s.
But when demand never materialised for its concrete platforms, the project was shelved and the village was abandoned.
Portavadie Village Ltd owned land in Portavadie on the Cowal peninsula before going into administration.
The abandoned site was bought by Portavadie Forestry Limited after being put on the market by property consultancy CKD Galbraith.
'Ghost town'
Join administrator Brian Milne said: "News that this land had been put up for sale generated a great deal of interest from a number of parties attracted by the potential of its location at Loch Fyne.
"The conclusion of its sale from administration delivers a successful outcome for all parties concerned and signals an end to the decades of this site earning the reputation as a ghost town."
Plans to revamp the village as part of a regeneration project were dropped several years ago.
Portavadie Forestry plans to "breathe new life" into the 25-acre site by demolishing the dilapidated accommodation and investing in landscaping for a mixture of residential and commercial property development.
A spokesman said: "This is an exciting opportunity for us to compliment the significant investment made at Portavadie Marina and to transform this site to an additional venue in the area.
"We are in the process of reviewing options for the site, but initial proposals include plans for a mixed development including a micro distillery or brewery with visitor centre and residential development."