More Scottish football clubs 'in distress'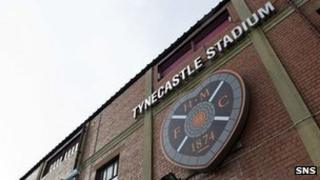 The finances of Scottish football clubs have worsened in the last six months, according to a survey.
Business recovery firm Begbies Traynor said six clubs in Scotland's three top divisions were showing signs of distress at the end of October.
That is two more than when the survey was first carried out in April 2012.
The survey comes a day after SPL club Hearts warned fans the club might not survive until the end of the month after receiving a winding-up order.
Begbies Traynor said the rise in distress came at a time when most clubs should be at their strongest after the majority of their season ticket, sponsorship and television payments had been received.
Ken Pattullo, from Begbies Traynor, said: "Distress has actually risen since the peak of last year's problems, and the problems go further than the widely reported issues at Hearts that resulted in a winding-up petition being issued this week.
"The plain fact is that if a club is in trouble at this stage of the season, it looks very bleak for the prospects of financial survival when the cash flows are really put under pressure in the spring and early summer."
Business distress signals, as measured in the survey, included clubs facing winding up petitions and high court writs, county court judgments or "serious negative balances" on their balance sheet.
Distress symptoms
The business recovery firm said almost one in five of the 32 Scottish football clubs surveyed (19%) showed symptoms of distress, compared with an average of just 2% of UK businesses.
Mr Pattullo added: "The survey shows that the relegation of Rangers has had some impact, but lower attendances and falling revenues, and in particular reducing TV money, has given rise to the distress that is spread across the SPL and divisions one and two."
On Wednesday, Hearts warned fans the club might not survive until the end of the month after receiving a winding-up order over a tax bill of almost £450,000.
The Edinburgh club issued a plea for "emergency backing" from supporters to avoid the prospect of administration.
It added there was a "real risk" that Hearts could play its last game on 17 November.