Japan sushi hopes for salmon producers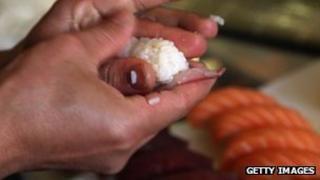 Japan's increasing appetite for salmon in sushi dishes presents Scottish salmon producers with a "huge opportunity", according to Rural Affairs Secretary Richard Lochhead.
Mr Lochhead claimed salmon was replacing tuna as the number one choice for sushi in Japan's top restaurants.
He said salmon exports to Japan could be doubled in value if Scotland secured another 1% of Japan's import market.
Mr Lochhead was speaking in Tokyo during a trade mission.
Japan relies on imports for 40% of its salmon market and brings in 85,900 tonnes of the fish annually.
Scotland currently exports just 907 tonnes of salmon, worth £3.2m, to the Asian country.
Commenting after visiting Nobu restaurant in Tokyo, Mr Lochhead said: "By increasing our share of Japan's booming imported salmon market by just a tiny fraction we can increase the value of our exports by a phenomenal amount.
"The Japanese eat 12% of the world's fish yet make up just 2% of the population. So the appetite is there for us to feed the market with our top quality seafood."
'Unique appeal'
He added: "Scottish seafood - including salmon - has unique appeal to the Japanese consumer. It is high quality, sustainably sourced, fresh and flavoursome."
Scott Landsburgh, chief executive of the Scottish Salmon Producers' Organisation, said Japan was an emerging market with great potential.
He added: "The market value has more than doubled in a three-year period and we are confident that it can grow further."
The trade visit to Asia is a joint initiative by Scottish Development International (SDI) and Scotland Food and Drink.