Irn Bru firm AG Barr and Britvic agree merger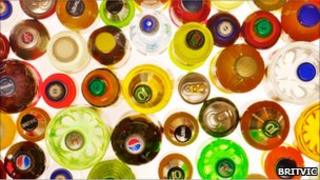 Soft drink rivals AG Barr and Britvic have agreed the terms of a merger which creates one of Europe's largest soft drinks companies.
Irn Bru maker AG Barr and Tango producer Britvic opened discussions about a merger in September.
The new combined company will be called Barr Britvic Soft Drinks plc and will have annual sales of more than £1.5bn.
The merger is likely to see about 500 jobs cut from combined headcount of just over 4,000 people.
The takeover panel had given the companies an extended deadline of 28 November to announce their intentions.
The merger ratio will leave Britvic shareholders with approximately 63% of the new company and AG Barr shareholders with 37%.
In a statement, Britvic non-executive chairman Gerald Corbett said: "The (all-share) merger of AG Barr and Britvic will create a world-class soft drinks company."
'Fantastic fit'
He added: "AG Barr and Britvic are a fantastic fit with complementary strengths and we will benefit from very significant synergies."
The job of chief executive will go to Roger White, who is currently the boss of AG Barr.
The head office of Barr Britvic will be in Cumbernauld, which will also be its registered office, while the new group's operational headquarters will be located at Britvic's existing head office in England.
The firms were originally due to announce their bid intentions by the beginning of October but were granted extensions after stating that talks were ongoing.
A Britvic statement added: "The boards of AG Barr and Britvic believe that the combined group will be able to achieve recurring annual cost synergies of approximately £35m."
Cumbernauld and Kilysth MSP Jamie Hepburn welcomed the news that the merged company's head office would be in Cumbernauld but said "clarity was now needed" on how many of the 500 proposed jobs cuts would be in Scotland.
Mr Hepburn said: "It is a positive development that the new company want to retain their base in Cumbernauld, obviously seeing the business benefits of remaining head-quartered north of the border.
"What everyone will now be looking for is clarity on is where the job losses will be coming from. With the group's operational headquarters planned to at Britvic's existing head office in England, this creates some doubt."
The MP for Cumbernauld, Kilsyth and Kirkintilloch East, Gregg McClymont, said: "I welcome the news that the Barr Britvic HQ will be in Cumbernauld, but I am urgently seeking a meeting with Roger White, chief executive of AG Barr, to discuss what this merger means for jobs at the Cumbernauld HQ.
"Barr's is one of Cumbernauld's biggest employers and those that work there need reassurance about the security of their job."