Scottish jobs market 'steadily improving'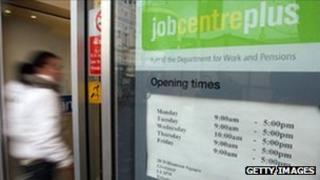 The Scottish labour market is "steadily improving" in spite of the economic slowdown over the summer, according to a survey of recruitment agencies.
The Bank of Scotland's report on jobs suggested more people were placed into permanent and temp work in October.
The bank said this partly reflected greater demand for staff, with agencies reporting a strong rise in the number of permanent and temporary jobs.
The survey also suggested a slight increase in average salaries.
Permanent salaries rose at the fastest rate in Aberdeen, while the strongest rise in temp hourly pay was posted in Glasgow.
Edinburgh-based recruiters reported the strongest increase in permanent staff placements, while agencies in Glasgow saw the fastest rise in temp billings.
The availability of permanent staff continued to deteriorate last month, with the second-sharpest rate of decline for almost five years.
The number of permanent job vacancies increased in all sectors covered in the report, except for accounts and financial which saw broadly the same figure as the previous month.
Bank of Scotland chief economist Donald MacRae said: "Following the low point reached in July, the Scottish labour market is steadily improving in spite of the economic slowdown in the summer months."