Standard Life to shed 140 jobs in restructuring process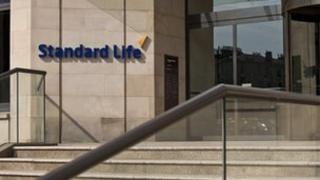 Pensions, savings and investment firm Standard Life has announced plans to shed nearly 140 jobs as part of a restructuring process.
The company said the move was in response to regulatory changes such as pensions reform and the retail distribution review (RDR).
It added that the overhaul would lead to "more streamlined and flexible" structures in its UK divisions.
The majority of the 139 job losses will be at the firm's Edinburgh base.
In a statement, Standard Life said regulatory changes such as RDR and auto-enrolment had changed the way customers, advisers and employers engaged with the company, which provided it with a "significant opportunity" in the years ahead.
Divisions which are facing an overhaul include IT, customer and marketing and investments and workplace.
'New world'
Chief executive Paul Matthews commented: "A lot of great progress has been made getting Standard Life ready for the retail distribution review and pensions reform.
"These initiatives significantly change the way customers engage with us.
"Our current model and structure has to change to meet the changing demands of this new world where customers will want to interact in different ways for different products.
"The changes being proposed today fundamentally change how we're organised so that our customers can have a greater experience with Standard Life."
Last month Standard Life reported a 7% drop in sales on the back of a weaker corporate pensions business.
The firm had new business sales of more than £14bn in the nine months to 30 September compared with £15.5bn a year earlier.
The decline was due partly to a 32% drop in corporate pension sales.