East Kilbride software firm Gael expands into Asia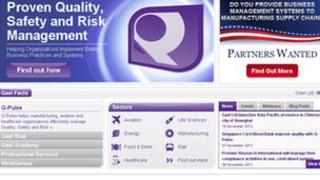 Scottish software developer Gael Ltd has expanded into the Asia-Pacific region, with a dedicated presence in the Chinese city of Shanghai.
The move has involved the East Kilbride-based firm teaming up with partners TechPubs Global.
TechPubs provides management software and services for aviation technical publications.
Gael's move into the region follows expansions in both North America and the Middle East.
Gael's Asia-Pacific operation will be fronted by business development manager Thomas Zhang, who will be based in TechPubs' premises in Shanghai.
The company will initially focus on the aviation market.
Gael chief executive Ashley Marron said: "The Asia-Pacific region, and particularly China, is one of the fastest growing aviation marketplaces in the world with huge growth potential for airlines, business jets and airports for example.
"Similar to the success of our operations in the Middle East, where we now have a dedicated premise based in Dubai, we plan to build our credibility in the area initially from within the aviation sector, filtering into other sectors such as healthcare, manufacturing, etc."
He added: "These are exciting times for Gael, and we hope this ambitious move reflects that."
Gael designs software solutions which automate routine tasks for compliance management systems in sectors such as manufacturing, healthcare and life sciences.
The firm employs more than 100 staff in East Kilbride, Dubai and Boston, and has an annual turnover of £8m.
Its chairman is former Scottish enterprise minister Jim Mather.