Cloud computing firm Iomart reports profits boost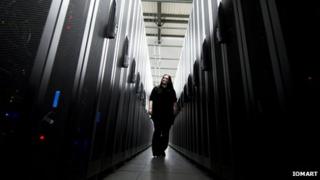 Cloud computing company Iomart has seen a boost to profits while making three acquisitions over the past six months.
The Glasgow company has announced results for the first half of its financial year.
It has also declared its intention to expand data handling capacity by extending its storage centre in Maidenhead, Berkshire.
The period ending 30 September saw revenue rise 29% to £19.9m, while pre-tax profits were up 73% to £4.1m.
During that time, it committed £9.6m to acquisitions, including Melbourne Server Hosting in Manchester, while investing in fibre connecting its seven data centres.
The expansion of iomart's Maidenhead data centre represents a 20% expansion of its capacity.
And its acquisitions this year have taken it out the "medium size business" category, rising from 212 staff last March to 260 now. Half of those are at the Glasgow headquarters and the Govan data centre.
Chief executive Angus MacSween said: "This has been another excellent trading period for Iomart, delivering substantial growth both organically and through successful acquisitions.
"Trading in the second half of the year has begun well as the trend to outsource more and more services and infrastructure into the cloud accelerates."