Scottish Salmon Company boosts capacity with Mull licence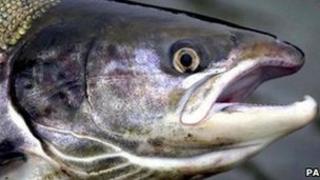 One of Scotland's major salmon producers has boosted capacity with a new Isle of Mull licence.
However, the Scottish Salmon Company is facing falling output as a result of amoebic gill disease.
The firm, listed on the Norwegian stock exchange, saw revenues in the third quarter rise from £18m to £21m.
Profit before interest and taxation, and accounting for the reduced value of stock, was only £130,000, down from £690,000 last year.
The company said this was largely due to the problems with "biological issues, which affected the Scottish industry as a whole".
The spot price of salmon also fell over the preceding year, though the firm said prices should rise throughout global markets with low supply growth and strong demand.
Expanded distribution
It reported strong interest from UK retailers for its new Freedom Food accreditation, with the prospect of long-term contracts.
And its Gometra licence, on the coast of Mull, will enable it to deliver up to 2,500 tonnes of extra volume, putting Scottish Salmon on course to reach 29,000 tonnes in 2014.
Earlier this year, the firm won permission for a similarly large-scale fish farm on Loch Torridon in the north-west Highlands.
The company said amoebic gill disease is partly explained by higher water temperatures than usual and the high level of salinity, leading to increased mortality of fish, lower growth and increased production costs.
The disease will continue to reduce the volume of fish farm harvests towards the end of next year, because of the generation of fish that has been affected by the disease.
Scottish Salmon has expanded its range of supply in UK retailers, increasing shipments to French fish smokers and with expanded distribution channels in Japan and China.
Stewart McLelland, chief executive of the Scottish Salmon Company, said: "The third quarter results mirror wider industry trends and reflect the innate, natural challenges faced by the industry as a whole. Having said that, The Scottish Salmon Company has remained resolute in dealing with these challenges.
"At all times during the difficulties of the past quarter, as throughout 2012, we have continued to work in close collaboration with other industry players to monitor, manage and look for solutions to the biological challenges faced over the summer."
In recent years, the firm has had 15% of Scottish salmon production, with a turnover last year of £90m.
It operates from more than 50 sites on the Hebrides and west coast of Scotland, from the Isle of Lewis in the north to Arran in the south, while employing more than 380 staff.