Stagecoach group's profits up 29%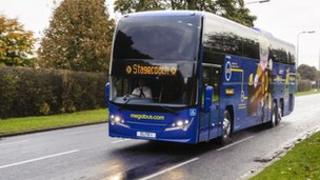 Perth-based transport group Stagecoach has announced its half year profits have increased by almost a third.
The company made a pre-tax profit of £116m with revenues up by nearly 9% at £1.4bn.
Strong growth was recorded in its UK bus division, with an increase in passengers contributing to a 9% rise in profit to £87.2m.
The group said it looked forward to an agreement being reached on the West Coast rail franchise.
Scottish rival FirstGroup initially won the contract to run the line, with Stagecoach's joint bid with Virgin losing out.
However the decision was scrapped because of "technical flaws" in the bidding process, which are being investigated.
Stagecoach indicated it was close to reaching an agreement with the UK Department for Transport "for the continued operation of West Coast train services".
Chief executive Sir Brian Souter said: "We are playing an active part in the UK government's review into rail franchising.
"The private sector has been central to the huge growth of UK rail travel over the past 15 years and it is important that a sustainable rail franchising programme is restarted as quickly as possible."
Stagecoach employs around 35,000 people, and operates transport services across the UK, US and Canada.
Sir Brain added: "We see good potential ahead to grow our transport operations in the UK and North America, and we believe the outlook is positive."