Logistics firm InterBulk reports fall in earnings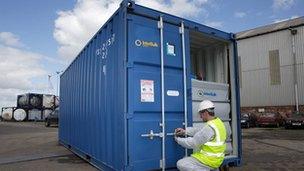 Logistics firm InterBulk Group has reported a fall in earnings following a slump in the European chemical sector.
The East Kilbride-based company saw revenue fall by 7% to £280m in the year to the end of September.
It blamed the euro crisis for the decline in its main market.
However, InterBulk said lower interest costs as a result of continuing efforts to reduce net debt helped pre-tax profits remain on a par with the previous year at £5.2m.
The group reported a "tough year" in its liquid bulk division, with reduced transport activity in most regions driven by the slow demand in the chemical sector, especially in Europe.
It has now scaled back on equipment investment plans "until clear recovery is evident".
Its dry bulk operations saw continued recovery in profitability, with strong growth in the food sector as well as increased use of InterBulk's intermediate and on-site storage solutions.
InterBulk non-executive chairman David Rolph, said: "In early October 2012, we announced the successful completion of the refinancing programme.
"The new debt package in place since the beginning of the new financial year provides a sound platform for the next four years and reduces the group's cost of debt by approximately £1.5m per year.
"We believe the success of this programme and the support of the bank is testimony to the substantial deleveraging achieved in recent years, the robustness of our business model and the strength of our market position."
Mr Rolph added that strategic growth opportunities remained in areas such as China, as well as sectors including food.
Last May, the group announced it had secured a multi-million pound contract to provide packaging, warehousing and loading operations in Siberia.
The deal, worth about £8.1m over 10 years, was the company's first major step into Russia's dry bulk sector.
InterBulk is part-owned by Clyde Blowers.
Related Internet Links
The BBC is not responsible for the content of external sites.