Glasgow reports surge in conference sales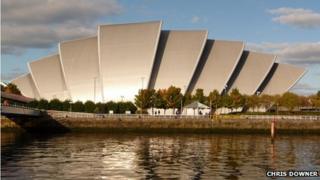 Glasgow is on course for a bumper year in conference sales, according to city marketing bosses.
Glasgow City Marketing Bureau (GCMB) reported sales had already beaten last year's total of £120m - after just eight months of this financial year.
Between April and November, GCMB confirmed 347 new international and UK conventions through to 2020.
It said collectively the events would boost the local economy by more than £140m.
The bureau has forecast sales growth of up to 60% for the year.
Major conferences booked by GCMB this year include the European Association of International Education in 2015, the Congress of the International Society of Haematology in 2016 and the World Biomaterials Congress in 2020.
The bureau said it had beaten off strong international and domestic competition to secure the meetings in Glasgow.
'Clear endorsement'
Chairman Gordon Matheson, who is also leader of Glasgow City Council, said: "To have exceeded our total sales for last year with a quarter of the financial year remaining and at a time when competition in the global marketplace is incredibly fierce, is a clear endorsement of the confidence that the meetings industry continues to have in Glasgow.
"It further strengthens the city's reputation as one of the world's premier business tourism destinations."
Ben Goedegebuure, director of sales at the Scottish Exhibition and Conference Centre (SECC), said: "Glasgow is continuing its emergence as one of Europe's key meetings and events destinations, and this is reflected in our growing success in this market.
"Meetings and events matter to Glasgow - they ignite our local economy, create repeat visitors to our city and underline Glasgow's role as a hub of information sharing, specialist knowledge and expertise, and business excellence."