Fracking: Weir Group boss says Scotland 'well placed'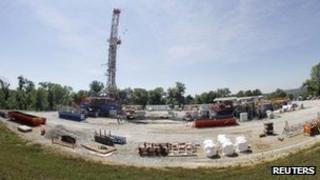 The head of a leading engineering company has said Scotland is well placed to be at the forefront of a new European shale oil and gas industry.
Weir Group chief executive Keith Cochrane said the country could take advantage of its existing expertise in the energy sector.
His comments came after a firm was cleared to resume a technique known as fracking to exploit gas in Lancashire.
Weir is the world's largest provider of special equipment used in the process.
It has spent the last ten years in Texas providing hydraulic fracturing equipment for the more developed US shale oil and gas industry.
On Thursday, The UK government said the company Cuadrilla could resume fracking operations near Blackpool after work was stopped following two tremors which sparked environmental concerns.
In fracking, a mixture of water, sand and some chemicals is pumped into a well under high pressure to force the gas from the rock.
Conditions have been imposed to minimise the risk of seismic activity.
Mr Cochrane said the government's decision meant the industry could now move ahead with plans to develop already identified resources and continue to search for the potential "we all believe exists across the UK
He also argued that the skills base already built up in the north east of Scotland in the energy sector provided a "platform from which the industry can develop".
'Leading edge'
He explained: "The UK has a great example here, a great opportunity here, to be at the leading edge of European development because of that skill base, and to develop something that then can be exported across the rest of Europe because we have got the infrastructure, because we have already developed that capability in the offshore market place.
"If I look at our own business, we already have a base in Aberdeen for example, providing hydraulic fracturing equipment for the broader European opportunities that are starting to emerge.
"So we have got the experience, we have got the capability here in the UK, in Scotland, already."
He added: "But of course, as the industry takes off across the UK, I would expect that we will need to add additional capability, and additional resources and jobs will be created off the back of that in due course."
Weir Group employs about 1,500 people through its Texas operations.